NFC secure microSD card with a standard memory, two embedded secure chips and micro coil NFC antenna
LGM Card was certified by NPCI in July, 2019 as RuPay Dual Interface Card
LGM Card is a secure NFC microSD card. It is a standard memory card with more added features. End-customers use LGM Card while inserted into their mobile phones.
LGM Card is product for government, banks, transit providers or other entities operating in the particular territory. These issuers of LGM Card enable end-customers to use secure chips of the LGM Card as a mobile contactless payment card, mobile eID-card, driving license, social card, employee card or mobile contactless transit card.
LGM Card enables to develop secure mobile solutions under issuer's full control, no need to make any compromise on safety. LGM Card addresses huge number of end customers, anyone with a mobile phone that has a microSD slot. Contactless use-cases will be enabled also from non-NFC phones and feature phones.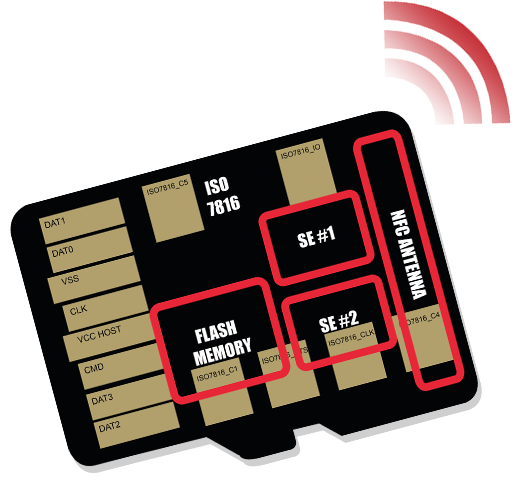 Micro NFC antenna 
LGM Card has embedded micro active NFC antenna
The antenna supports ISO 14443A, card-emulation mode
The antenna is switched on from the user phone application
It is used only during NFC payment
It works also in mobile phones with metal covers
Secure chips
LGM Card contains two secure chips (SE)
SE are under control of the issuers
Each SE can be divided into more secure domains
ISO 7816 contacts
ISO 7816 contacts are placed on the surface of the LGM Card
This enables contact personalization of the secure chip(s)
This enables to use current personalisation machines 
Typical Applications
LGM Card was certified by NPCI in July, 2019 as RuPay Dual Interface Card.
Contactless mobile payments & mobile transit (using RuPay One Card)
Secure access – NFC and remote
Storing secure data – eID, passport, driving licence, etc.
Cryptocurrency Wallet
Pairing, device setting, flash memory locking
Technical characteristics
LGM Card Technical Features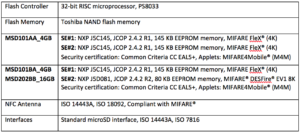 LGM Card MobileAPI
LGM Card MobileAPI is a library developed by Logomotion, provided based on SW license Agreement. Developers can use LGM Card MobileAPI to develop customized, issuer branded mobile user application (Wallet).
LGM Card Life-cycle
LGM Card life-cycle can be done OTI. There are more ways of how secure chips of LGM Card can be personalised:
Contact personalization needs microSD card embedded on ID-1 size plastic carrier (see the picture). ISO 7816 contacts on the LGM Card's surface are exactly in the same position as they are on a common plastic chip cards. EMV contact personalization of both two SEs is possible on common personalization devices
Video LGM Card Contact Personalisation
Contactless personalization is done on a contactless reader connected to PC. MicroSD card has to be inserted in a mobile phone
Personalisation and life-cycle management Over-the-Internet (OTI)
Headquarter:
Logomotion, s.r.o.
Winterova 15
921 01 Piestany
Slovak Republic